'EUA ISLAND'S TREKKING AND HIKING
'Eua island's has the best trekking / hiking in the South Pacific.
'Eua island has the largest National Park in the Kingdom of Tonga. This is the perfect and only island to hike in the Kingdom.
'Eua National Park is positioned on the East coast of 'Eua. 'Eua National Park has a unique un-touched flora and fauna and plants and trees that are only found on Eua Is and not the rest of Tonga but some of the same vegetation, plants and trees are found on other South Pacific islands.
This proves that 'Eua Is is not geologically not related to the rest of Tonga.
Fangatave Cliffs
Click pic to enlarge
Rock pools like a human size aquarium
Click pic to enlarge
Cave Trekking
Click pic to enlarge
Rainforest Trek
Click pic to enlarge
Maui's Archway
Click pic to enlarge
Trekking the south
Click pic to enlarge
There is a unique parrot called the Red Shining Parrot (KOKI). This Parrot is only found on the island of 'Eua and no where else in the world. For a rare unique bird, population is good, 100% guarantee you will hear this bird on any of the walks, which means there is a very good chance you will see it. Then you have your common Pacific sea birds, which are very beautiful to the Pacific only like the White tail tropic bird (Tavake), White turns(Tala), Brown booby, Frigate birds(Hele Kosi) and plenty more.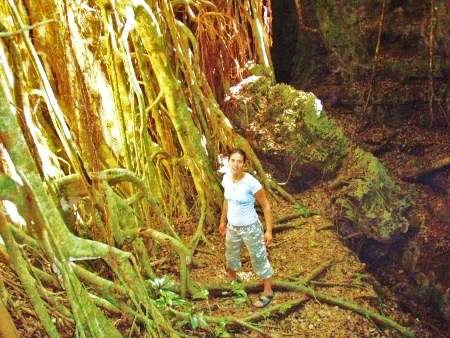 The Roots Of The Ovava Tree
The 'Eua Banyan trees (Strangling fig tree) are quite spectacular, another unique characteristic about these trees is that they are all growing out of the giant gaping sink holes, shafts in the ground, with a cave, which you climb down the tree and into the cave. This tree is called Big Ovava !!!
On Some of the walks, it is not un-usual to see whales and turtles from high cliff tops looking over the lush virgin rain forests down to the Deep Tonga Trench ocean. This is a real bonus to the trek of the day.
Trekking to more accessible beaches are fun as well or take a horse ride to a beach, this makes for a nice day.
---
The Links Below Will Take You To More 'Eua Island Treks
---
The 'Eua island guides are a great way to see 'Eua island. All of the guides are fully trained and have the local knowledge that will make your trekking on the island second to none.
---
The 'Eua island 4wd vehicle tour is not your usual drive around in a car tour. The type of people that choose 'Eua island are not sit in the car, drive around tour, type of people.
---
Trekking Fangatave beach includes Caves, Trekking, Climb and Snorkel
---
Eua National Park ( Lokupo Beach Trek), The walk is just as beautiful and spectacular as the others but this one is for a walker that wants a bit more of a challenge.
---
'Eua Forest Plantation and National Park Walk
---
'Eua islands southern rock garden snorkel and walk The South part of 'Eua is possibly the most beautiful part of the island due to a combination of natural rock shape statues


Home
>> >> Trekking / Hiking in 'Eua island