GETTING TO 'EUA ISLAND
There are two ways to get to 'Eua from the main Island of Tonga - You can enjoy the worlds shortest scheduled flight or travel by ferry.
---
Fly To Eua In A Jiffy
---
By flying with Chathams Pacific's, the Friendly Islands Airline you can enjoy what is reputedly the world's shortest scheduled flight and enjoy all that Eua has to offer.
Chathams Pacific offer easy day trip options or for those with more time you will enjoy their regular services.
With a flight time of only 8 minutes why not check out Chathams Pacific's timetable and book now?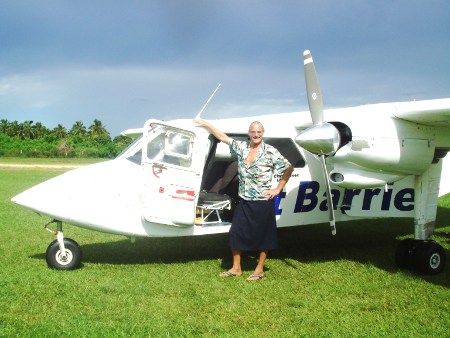 Chathams Pacific, the Friendly Islands Airline
Use an Islander aircraft to flight the worlds shortest scheduled fight to Eua
It is very convenient to come to 'Eau Island from Auckland as there are frequent flights to Tonga from Auckland International Airport.
---
THE 'EUA FERRY
---
The other option is the ferry which leaves from the Queen Salote wharf and takes approximately 2 ½ – 3 hours and arrives at the Naufana wharf 'Eua.
The ferry departs Tongatapu at 12:30 pm. Tickets are purchased at the ferry terminal.
Tickets cost $25TOP per person one way (cash only).
The ferry can get pretty full so to get a seat ensure you are there at least an hour before.
The ferry ride from 'Eua leaves at 5am and again this can get a bit full so please get there at least an hour before.
Tickets are brought on the boat just before you get back to Tongatapu.
---
'EUA FERRY TIMETABLE.
---
The ferry to 'Eua leaves Tongatapu, main island from Queen Salote wharf. It leaves at 12:30 noon. Get to this wharf at 11:30am. Buy your tickets from the ferry staff who are dressed in light blue uniform or just ask the locals where the ferry to 'Eua is and where do you buy your tickets from. Then wait under the shelter with all the other passengers to board at 12:15pm for a 12:30 departure. Fare is $25T one way, per person.
The ferry to 'Eua at the moment is running on Tuesday, Thursday, Friday and Saturday.
It leaves 'Eua back to Tongatapu Monday, Wednesday, Friday and Saturday.
The 2 ferry operators contacts are: #1 (00676)23855, IKALE, red & white ferry. #2 (00676)21326, ALAIMOANA, blue and white ferry.
---
---
Travel to African continent & countries
A great travel resource, for when your on the road or planning you next holiday.
Travel Money, Abacus Finance of New Zealand
We specialise in small personal loans, NZ wide. If you are looking for Travel Money we can help! Apply online - no obligation application. Abacus Finance: Small Loan Specialists
Home
>> >> Getting To 'Eua Island