Tongatapu
---
The Tongatapu page is just a little helper for you while you are staying on Tongas main Island Toangtapu.
It highlights some of the best places to see and do while you on Tongatapu.
Tongatapu is the main island of Tonga and is normally over looked by your average tourist. People stop here on there way to see other outer islands  like 'Eua island, Vava'u or Ha'apai. This is unfortunate as Tongatapu has a lot to offer.
Tongatapu is the main Island of a 175 island archipelago called the Kingdom of Tonga. If you are coming to 'Eua Island Tonga then you will probably have to come through Tongatapu first as it has Fua'amotu Airport (Tonga's international & domestic airport.) So we thought it might be a good idea to tell you a bit about it.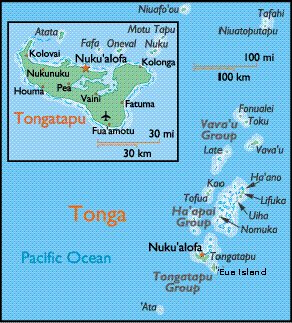 Map of Tonga
Tongatapu boast the highest population of all the Tongan island, with just over two-thirds of the population of the Kingdom living there.
Tongatapu means the "sacred south", "Tonga" meaning south and "tapu" meaning sacred.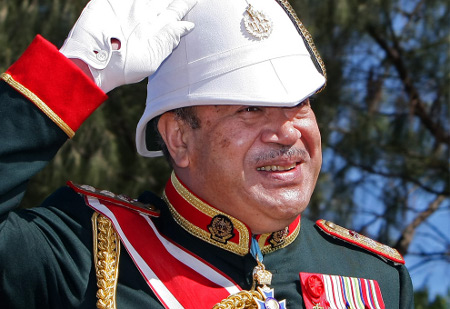 King Tupou V


Nuku'alofa
---
Tongatapu's main town, Nuku'alofa, is the Tongan capital and urban commercial centre. This is where the heads of government sit and the king of Tonga has his palace.
There are restaurants, bars, night clubs, shops and the Talamahau market, where you can by a lot of crafts, fresh fruit and vegetables. Don't forget to have a look upstairs in the market as well.
The Ha'amonga
---
Tongatapu is the home of the Ha'amonga. Tongas answer to Stonehenge was Built around 1200AD. Made out of Two upright coral stones about 5m high, with a 6m long connecting stone on top. God only Knows how or why it was built, there is lots of speculation, Myself I don't care Its just way cool in my books.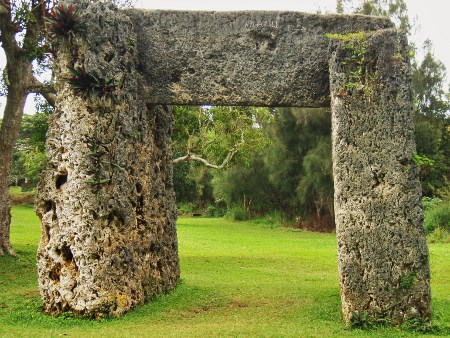 The Ha'amomga


The Terraced Tombs
---
The Terraced Tombs first built around 1200AD for the sacred kings of old called the Tui Tonga. They were said to be half man half God so they had to be buried higher than everybody else.
Terraced Tombs


Hufangalupe
---
Hufangalupe or the pigeons doorway it's a natural land bridge made of coral under which sea water churns. You can walk over the bridge and look down the cliffs at the clear water below and if you are lucky see whales and turtles swimming by. Way cool.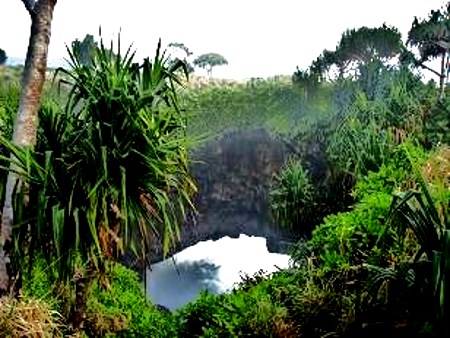 Hafangalupe


The Blow Holes
---
The blow holes of Tongatapu, I think they are the biggest in the south pacific, Talk about spectacular. you might get a bit wet watching this one though but hey who cares TONGA IS HOT! so getting a bit wet is good.
Blow Holes


Anahulu Cave
---
These are limestone caves with fresh water to swim in. Situated in the village of Haveluliku on the Eastern Side of Tonga and only about a 30 miniute drive from Nuku'alofa it's a must see.
Anahulu Beach is just infront of the entrance of the cave and is great for snorkeling and swimming.
Anahulu Cave


Kolovai
---
Kolovai is on the west side of Tongtapu and has some beautiful sunsets. It is known for it's well-maintained appearance and the fruit bats colony(peka). It also has a few nice resort style accomadation ands ome beautiful beaches.
There is so much more to Tongatapu than I could fit on this page and so much more to tonga than Tongatapu so, I hope you will get off your computer and come give us a visit here in Tonga/'Eua island we would love to have you.


eua island sitesearch
Sitesearch eua-island-tonga.com
'Eua Island Whats New
The 'Eua Island Whats New Blog keeps you up-to-date with all additions and changes to the eua-island-tonga.com Web site. Subscribe here.
GETTING TO 'EUA ISLAND
There are two ways to get to 'Eua from the main Island of Tonga, by areoplane or by ferry.
Trekking / Hiking in 'Eua island
Trekking and hiking through 'Eua island is said to be the best in the South Pacific. Infomation on the Treks and where to get gudies.
'Eua Island whale watching from land and sea.
Eua Island is a great place for your holiday. Whale watching from ,land and sea is purely spectacular.
'Eua island Tonga Accommodation
Accommodation on 'Eua island Tonga, Some of the best trekking and whale watching in the south pacific
Horse trekking 'Eua island
Horse trekking 'Eua island is a great way to get around the island to hire a horse, just ask at your host to provide you with a horse.
The 'Eua Rainforest
Eua island rainforest is amazing. As 'Eua is the oldest of the 170 islands in the Kingdom of Tonga and one of the oldest islands in the south Pacific.
'Eua Island Beaches
'Eua has some beautiful beaches with a differents. Golden sands slip into the reef front which makes for amazing snorkeling in huge rock pools, which make you feel as though you are in a human size aq
Tongan Culture
Tongan culture is a good thing to learn a little about to inhance your stay in the Kingdom of Tonga.
History of 'Eua island
History of 'Eua island, Abel Tasman was the first European to sight 'Eua in january 1643 and he gave it the name Middleburgh.
Stories and legends of 'Eua Island Tonga
The Stories and legends of 'Eua Island
Scuba diving in 'eua
The diving in 'Eua is said to be one of the best scuba dive spots of the world. Drop-offs, sea mountains, caves etc.
Rock climbing 'Eua Island
The rock climbing in 'Eua is just starting to be explored and the potential is great.
Pictures and video of 'Eua Island Tonga
Pictures and video of 'Eua Island Tonga, Here are a few pictures of the Beautiful 'Eua iIand
General Information on 'Eua island
General Information on 'Eua island, is where you will find information on Emergency contacts, currency and banks, internet cafes etc
More travel resources
Guide and resourses for travelers.
build your own website, with S.B.I
Own your own website, built for you by you with S.B.I
contact us page for eua-island-tonga.com
contact us page for eua-island-tonga.com