'Eua Island Tonga Accommodation
THE HIDEAWAY
---
The Hideaway is a 100% local operation, established in 2000, by Sefesi and his son Taki.
The Hideaway is the only accommodation on 'Eua island Tonga the oceans edge, where you can here the soothing sound of the waves lapping against the reef.
This is a delightful spot to watch the whales frolic from their wonderful whale viewing platform located right on reef, or if you would like to view them from a boat they hold the only whale watching license on the island and can organize viewing in a small eight seater boat which makes for a very intimate encounter.
The Hideaway also runs Trekking and hiking tours, to all the places mentioned on this site, 4wd tours, horse hire, bike hire and will be working with a local dive operation, that is set to start diving the underwater caves and reefs of 'Eua in April 2009.
The Hideaway has it's own restaurant and bar facilities, offering some great local Tongan food plus European food.
For actives and a great time on 'Eua island, The Hideaway can't be beaten.
The Hideaway Activities Are Open To all Visitors/Travelers Of 'Eua Island And Include:
Info and Maps for Un-guided Treks/Hikes
Guides for: 'Eua islands southern rock garden snorkel and walk
Guides for: 'Eua Forest Plantation and National Park Walk
Guides for: 'Eua National Park- Lokupo Beach Trek
Guides for: Fangatave Hike
Guides for: 4wd drive island, trekking, snorkeling tour
Guides for: Whale watching from land and boat
Guides for: Fishing by local 6 seater fishing boat
Bike hire
Horse hire
The Hideaway website 'Eua Guides
Email : hideawayeua@gmail.com
Phone Hideaway : (00676)50255
Mobile Hideaway : (00676)7755753
The Hideaway Website : www.kalianet.to/hideawayeua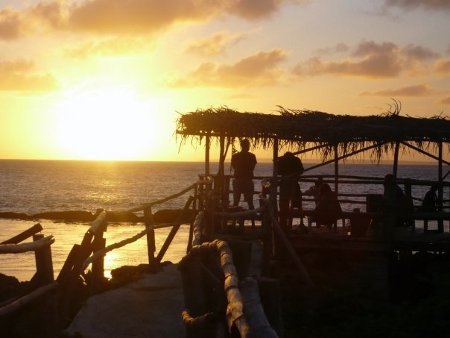 The view from the whale watching Platform at the Hideaway
---
TAINA'S PLACE
---
Taina's Place is situated on the forest's edge not far from 'Eua's southern and eastern spectacular natural attractions (you can plan and start your hikes and adventures from our doorstep).
It is kept very clean and is surrounded by beautifully maintained lawns and gardens.
Taina's has a self contained cottage or private and shared rooms.
Taina's provides excellent free hiking maps and info but also you can easily hire a local guide if you wish. There are excellent wall displays so you can easily choose from the range of activities.
There are no roosters or barking dogs, only the lovely sounds of forest birds.
Taina prepares wonderful tasty, varied and nutritious meals for guests who request them. Guests can also use the kitchen for free.
Taina also speaks fluent German (with a cute accent), having lived in Germany for 17 years.
Taina's Place also has the beginnings of a small South Pacific library (with the best Island books and stories!).
Taina can arrange whale watching tours as well as a variety of other tours upon request. Taina can also happily provide in depth information for the independent traveller.
There are beautiful local beaches which you can walk to, to relax on, and sometimes see whales (when it's the season).
The rates are very reasonable.
Taina and her family (who assist in the running of her place) hope you can come and stay!
Taina's Place website
Email : tainasplace@gmail.com
Website : www.tainasplace.com
Phone :(00676)50186
Mobile:(00676)65002
---
HIGH LIGHT GUEST HOUSE
---
This is a little out of the main town on 'Eua but it is comfortable and the welcome is always very warm. There are four rooms in this relatively new guesthouse and meals are available or you can cook your own.
High Light Guest House Website
---
Select out the best offers and choices for alamo car rental on the most appeasing prices and rates for your travel requirement ranging from business to leisure and family tours.


Home
>> >> Eua island Tonga Accommodation