The 'Eua Rainforest
'Eua island rainforest is amazing. As 'Eua is the oldest of the 170 islands in the Kingdom of Tonga and one of the oldest islands in the south Pacific.
In 1992 450ha of 'Eua rainforest, limestone cliffs and cave networks of the rasied reef were protected in a national park, the first and largest national park in Tonga.
Established with the help of New Zealand Govt, it contains trees, birds and plants found nowhere else in the world.
This ancient rain forest has had time to develop unique plant species in the many different environments. In the steep sided valleys, which are sheltered and extra warm, grow many ferns. Where as the slopes to the west of the summit ridge the trees are lower growing, such as feto'umaka, because of the wind, mist, and lower temperatures. There are many mosses, ferns and lichens.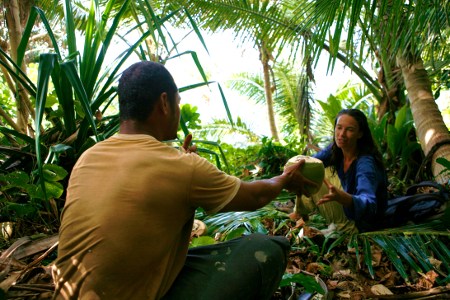 'Eua island has more varieties of plants than any of other Tongan island. Of all the 83 known ferns in Tonga, 54 are on 'Eua, 14 are only found on 'Eua.
'Eua island boast some of the best trekking in the south pacific, and walking through this untouched tropical rainforest is a unique experience thats not to be missed.
There are two lookouts ( Lokupo, Laua ) positioned overlooking the rain forest where you can see the canopy of the forest, the white tailed tropic bird soars over the roof of this lush and ancient tropical jungle.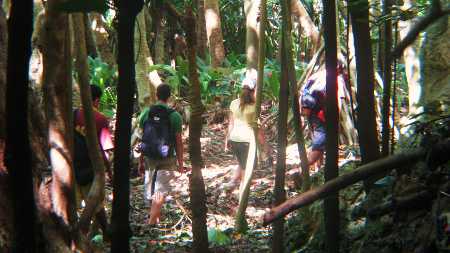 Home
>> >> 'Eua Rainforest