Scuba Diving 'Eua Island Tonga
The diving in 'Eua island is said to be one of the best scuba dive spots not only in Tonga but in the world as well. Drop-offs, sea mountains, caves and canyons.
In about 2001 a huge cathedral was found, it is about 100 meters long, 50 meters wide and 30 meters deep. The entrance is at 28 meters. You come into a big hall with three largish holes on top.
Light pours in as if spotlights have been turned on. The last hole in the cathedral is nearly on the surface and directly in front of the 'Eua cliff. When you look up from 28 meter mark to the hole you can see and hear the breakers.
It is a natural spectacle and one that is hard to beat.
In the end wall there is a 20 meter tunnel that allows you to dive up into a big cave which goes up almost to surface level and facing the ocean. Other tunnels are yet to be explored. On the way back to the entrance you pass sharks, groupers, school fish etc.
After leaving the cave you come to a drop-off full of all kinds of coral and coral fish. School fish guide you back to the wall, where another cave is waiting for you to visit.
For all diving on 'Eua and Tongatapu please click on the link to Deep Blue Diving below.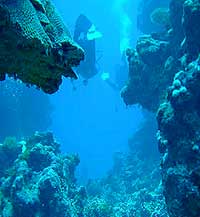 Want to have one of the best diving experiences in your life? Go diving in Tonga. Deep Blue Diving.


Home
>> >> Eua Island Scuba Diving