'Eua Island, Naturally Beautiful
'Eua Island is located only 17.5km eastsoutheast from Tonga's main island, Tongatapu. It is noted for it's unique physical characteristics. From the low lying beaches on the western side to the dramatic cliffs of the east coast with 'Eua's National Park boasting lush tropical rain forest, which is the largest in the Kingdom of Tonga.
'Eua Island is the oldest and the highest in the Tongan island group, it is geographically not related to the rest of Tonga, it is 30 million years older.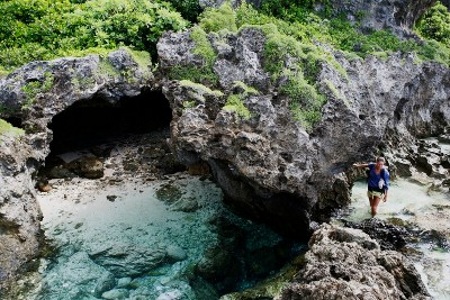 'Eua is the least developed island in Tonga. If you are looking for bars / nightclubs, restaurants and a wine list that speaks for its self, you have come to the wrong place, BUT if your looking for nature at its best, this is it, 'Eua Island is naturally beautiful.
The people's culture and traditions are very much still intact.
On most nights locals can be found drinking Kava Tonga in community halls and anyone is welcome to join. The sound of tapa cloth being made is present in nearly all villages along with local woman weaving their valuable mats, baskets and ta'avala (mats that you wear). The women are more than happy to share with you their craft and even show you the basics.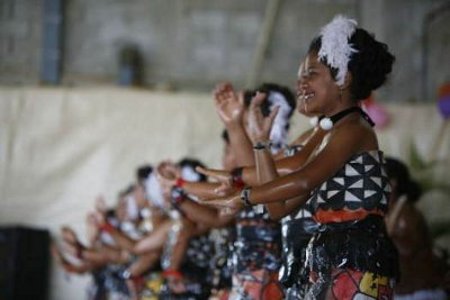 The best trekking in the south pacific can be found in 'Eua. The treks are through rainforest where trees such as the Banyan believed to be over 800 years old grow, pine plantations, along ridges and scaling cliffs to caves along the coast, through grassy plains that wild horses call their home and rocks that scatter the land forming what is known as the "rock gardens", to the natural limestone archway and golden deserted beaches.
Come to 'Eua and enjoy some of the best camping, horse riding, rock climbing, caving, scuba diving and Whale watching that can be done from land or from small local boats, making this Island unique to the Pacific.
'Eua is a great place to come for a holiday for those of you that want a quiet vacation lying on the beaches, or if you are the adventurous type an action packed holiday.
'Eua Island Whats New The 'Eua Island Whats New Blog keeps you up-to-date with all additions and changes to the eua-island-tonga.com Web site. Subscribe here.
'Eua island Tonga Accommodation Accommodation on 'Eua island Tonga, Some of the best trekking and whale watching in the south pacific
GETTING TO 'EUA ISLAND There are two ways to get to 'Eua from the main Island of Tonga, by areoplane or by ferry.
'eua island guides The 'Eua island guides are a great way to see 'Eua island. All of the guides are fully trained and have the local knowlegde that will make you trekking on the island second to none.
Trekking / Hiking in 'Eua island Trekking and hiking through 'Eua island is said to be the best in the South Pacific. Infomation on the Treks and where to get gudies.
'Eua Island whale watching from land and sea. Eua Island is a great place for your holiday. Whale watching from ,land and sea is purely spectacular.
Eua island activities 'Eua Island in Tonga's activities offer so much chose and diversity that people who book for three days, end up staying for a week at least and still haven't done it all.
Tongan Culture Tongan culture is a good thing to learn a little about to inhance your stay in the Kingdom of Tonga.
Stories and legends of 'Eua Island Tonga The Stories and legends of 'Eua Island
Kava Tonga Kava Tonga, is drunk nightly at
Tapa_making Tapa making is one of the most common heard sounds in Tonga. It's rhythmic sounds of women making Tapa is heard from morning till night, through out all the villages of 'Eua and Tonga.
tongan clothing culture Tongan clothing culture is conservate, to say the least. Woman must cover there knees and elbows and men are usually dressed in pants or Tupenu (cloth wrap skirt) and don't show there knees either. Even the young men if wearing shorts will were shorts that cover the knees unless the are playing sports. This goes for swimming to.
tongan food Tongan food is is made up of foods from the land and the sea. Tongan people are hunters and gatherers of land and sea.
Tongan recipes tongan cooking Tongan recipes and Tongan cooking is characterised by simplicity and wholesomeness.
'Eua handicrafts Eua handicrafts are known for there quality and durability. From the Kava bowl through to fine, and elaborate tapa cloths
villages of Eua island tonga Villages of 'Eua Island Tonga are made up of the original 'Euan peoples, the peoples of Ata, and the peoples of the Nuias.
Pictures and video of 'Eua Island Tonga Pictures and video of 'Eua Island Tonga, Here are a few pictures of the Beautiful 'Eua isIand
Map of eua Island  Map of 'Eua island, showing sattellite, terrain and street maps
General Information on 'Eua island General Information on 'Eua island, is where you will find information on Emergency contacts, currency and banks, internet cafes etc
The-Eua-Ecotourism-Association The 'Eua Ecotourism Association, providing low impact tourism, empowering the local community, helping the local economy, protecting the environment, educating the traveller and protecting the local culture so that it stays intact for the generations of the future.
History of 'Eua island History of 'Eua island, Abel Tasman was the first European to sight 'Eua in january 1643 and he gave it the name Middleburgh.
Tonga activates accomadation kingdom of What ever your your adventuring spirit may have planed you can do it here which is what make Tonga such a travelers paradise.
Activities Tonga Activities Tonga the best list of things to do in the kingdom from sailing to go karting
Tonga whale watching swimming with whales Tonga whale watching and swimming with whales (the southern Humpback), is a highlight for most travelers to the wonderful kingdom of Tonga.
Tongatapu Tongatapu page gives you information on the sites to see while you are staying on Tongatapu
eua island sitesearch Sitesearch eua-island-tonga.com
contact us page for eua-island-tonga.com contact us page for eua-island-tonga.com
book your eua island guide The 'Eua island guides are a great way to see 'Eua island. All of the guides are fully trained and have the local knowledge that will make your trekking on the island second to none.
build your own website, with S.B.I Own your own website, built for you by you with S.B.I.
More travel resources Guide and resourses for travelers.